Available sizes - S - 56 cm, M - 58 cm.
Ski/snowboard helmet CARRERA LIGHT NERVE 2.7
Art. number Е002525KP
Condition - NEW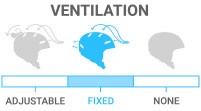 Fixed - allows air to filter via a set amount of vents
Facts
The intelligent design of the Nerve helmet gives it the ability to have a passive ventilation system and an open hearing zone. Dry Wave technology used in the helmet helps absorb humidity to increase comfort maintain dryness.


Always open ear piece allows pressure compensation for a good balance and hearing
Pvc loop to secure straps to the helmet, when the goggle is removed from the face
The system allows a good level of inside ventilation
Special Dry Wave material to absorb humidity, this guarantees perfect comfort and dryness


Ski/snowboard helmet CARRERA LIGHT NERVE 2.7
Brand: CARRERA
Product Code: CARRERA LIGHT NERVE 2.7
Availability: 10