Available sizes - XXS-52,
XS-54 cm.
Ski helmet Carrera
EGO SILVER
Арт. номер Е002982KE
Condition - NEW /without box/



Много здрава, удобна каска!
- държач за очилата
- вентилационни отвори - осигуряват оптимална температура във вътрешността на каската.
- съвместимост със ски маска 99%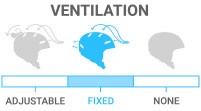 Fixed - allows air to filter via a set amount of vents


Facts
The Carrera Ego Helmet is a great piece of headwear to keep you from damaging your head if you were to take a nasty fall. This race helmet is designed with a full shell so you won't only have complete protection but your head and ears will stay plenty warm. The padding is not only comfortable but will absorb some of the shock if you were to cross those skis and take a spill. You'll have a good amount of ventilation in the back of the helmet and at the sides to help keep you dry when you really start to sweat. Ear vents allow for you to hear things going on around you as well as for additional ventilation for comfort as your speeding down the slopes. The chin strap adjusts so you can customize your fit depending on your comfort level. For those warm days keep the comfy chin pad close or if the temperatures are frigid adjust it to accommodate a face-warmer. With the Carrera Ego Helmet you get all around security and protection without giving up the comfort and warmth.


Ski helmet Carrera EGO SILVER
Brand: CARRERA
Product Code: CARRERA EGO
Availability: 4