Available sizes - S-56 cm.
Ski/snowboard helmet

Carrera
RIB SILVER MAT
Арт. номер Е002862KK
Condition - NEW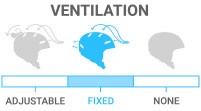 Fixed - allows air to filter via a set amount of vents
Facts
The sleek design, functionality and cost of the Carrera Rib Ski Helmet makes it one of the best buys out there. If you take a spill on the mountain you'll want one of these protecting you. It's In-Mold Technology consisting of a polystyrene liner and polycarbonate outer shell makes this helmet lightweight and shock-absorbing. You'll barely notice it on your head but if the worst happens you'll be glad it was there. There's a Drywave fabric inside that wicks moisture towards the outer shell to help ensure your head and ears stay warm and the furry lining gives you a smooth, cozy feel. If you're heating up a bit you have an Active Ventilation System to customize the airflow through the helmet and to keep you cool. Your ears will be happy to stay warm and your head will remain comfortable and protected when you wear the Carrera Rib Ski Helmet.
Ski/snowboard helmet Carrera RIB SILVER MAT
Brand: CARRERA
Product Code: Carrera RIB
Availability: 2